Parchment Lace Magazine
Welcome to Issue 5 of the Parchment Lace magazine! We are very excited to share this magazine with you as we have all been working hard giving this magazine a revamp! We hope you love it as much as we do! Incl. GRATIS A6 "Multigrid"
€19,69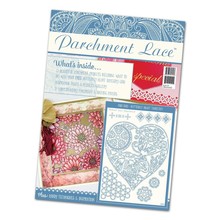 Hello and a very warm welcome to Issue 4 of the Parchment Lace Magazine. We have a stunning and diverse array of fabulous patterns and projects for you to enjoy in this issue. Incl. GRATIS A6 "Multigrid"
€19,69
Welcome to the very first issue of our new Parchment Lace Magazine, with our Beautiful Fan Grid absolutely free! (Engelse tekst) Inclusief GRATIS "Multigrid" op A6 formaat.
€19,69